Deciding on Kitchen Sink Materials? Read this First
One of the neglected section of a home when it comes to interior designing would be the kitchen. Most of the people consider that after deciding on any modular kitchen package, the interiors of the kitchen would be all set to go. And there is no need to decide on kitchen Counter-top materials. But paying attention to every minute details of this segment of your flats in Chennai and also for the villas would give a sophisticated use for every owner. Since the time spent in the kitchen by most of the homemakers is abundant, making this space comfortable and viable for them should be of prominence. One such detail that is usually not given any significance would be the kitchen sinks. Read on to know which kitchen sink materials would be best suited for your kitchen sinks both look and usage wise.
Commonly Used Kitchen Sink Materials:
1. Granite
One can notice the usage of this material in the flooring among the residential apartments in Chennai and even among the individual villas in Chennai. But other than its use of flooring, it also serves best when used as the kitchen sink. Having available in different colors and pattern, granites has some best qualities too that makes it as the best option. With a massive strength that it holds, it is actually indestructible and is also resistant to scratches, stains, heat, and scuffs. One can pour anything with a temperature over 500 degrees and no damage to its surface. Available pretty much in the affordable price range, this material is easily the best alternative for the usual stainless steel kitchen sinks.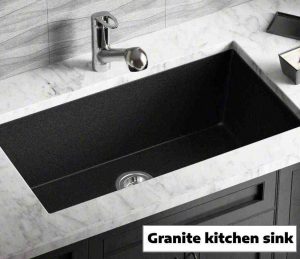 2. Native Stone
This could be a new suggestion for kitchen sinks. Native Stone is nothing but the combination of concrete with natural raw materials like jute fiber. The presence of jute reduces the weight of the sink but inversely increases the strength. Eventually, the kitchen sink made of this material would be able to withstand any weights of the utensils and would not develop cracks. Like the properties mentioned in granites, these materials also withstands extreme temperatures and is crack, stain resistant. With the reduced weight, the kitchen sinks of these materials would be available at much-reduced weights than the usual concrete material. Hence this option would be a suitable alternative for regular heavyweight kitchen sinks.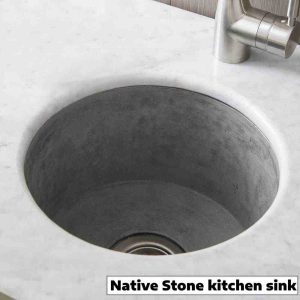 3. Soapstone
This suggestion would cast a unique and aesthetic look in your kitchen. That is, soapstone is much denser than the granite kitchen sinks and is not porous too. This implies that a kitchen sink made up of this material could withstand any acids, extremely hot water and is also stain resistant. Hence for someone who is looking to have the modernized contemporary look on your units' kitchen room, this could be the ideal alternative.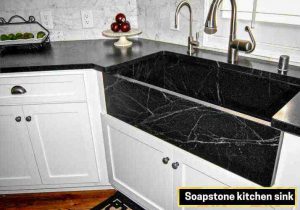 4. Copper
A kitchen countertop with this material adds a luminous look on your kitchen. This material is available in varied patterns and textures making it a striking option for kitchen sinks. Any kitchen that is filled with just copper cookware that is put on display with clear cupboards, opting for this countertops could accentuate the look.
Deciding on the perfect utensils that can offer comfortable cooking time alone should not only be of major importance. Having counter-tops in ideal height that of the user, and perfect material and even the placement of this is important to enjoy the time spent. Take a careful note of everything and pay attention to every detail. Check out this interior kitchen redesigning to make a complete dream design for your kitchen.