Top 5 Bike Rental Services In Chennai for your Bike Trip
The trend among most of the residents of Chennai is to go on a vacation especially to go on a long bike journey has augmented. Thanks to the vast number of movies that have encouraged this trend that people get to experience a whale of vivid experiences in this journey. Tired of staying in the cabins and also locked up inside the apartments in Chennai, people have chosen this getaway to escape from the concrete jungle. So what comes next in this quest of organizing an ideal bike journey?
The availability of high-end bike that ensures best travels is the foremost of the checklist to have an enthralling journey. Not everyone in the city can afford such high-end bike. Also, rather than spending massive amount just to take a bike ride, one can easily rent out those vehicles to enjoy a journey. So here is a list of suggestions who offer bike rental services to people wishing to take long bike trips.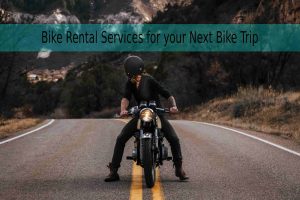 List of Bike Rental Services:
Chennai Motorcycle Rental
Address: 333, Basement, Salma SVP Arcade, Arcot Road,
Kodambakkam, Chennai
Call: +919952100400
Web: Chennaimotorcyclerental.com
Starting from the most sold vehicle of the 90's, TVS XL Moped to the premium ones like Triumph Bonneville T120, this outlet offers a wide range of vehicles. Not to forget they also include sports bikes such as KTM RC 390. The price range also differs accordingly which is quite reasonable for the varied collections they offer. While the TVS XL costs INR 275 for a day, the KTM sports bike costs around just INR 250 per day. This was started just to fulfill the unrequited love for going on long bike trips for a gang of friends.
 Royal Brothers
Address: 4th Main Road, Saraswathi Nagar, AGS Colony,
Velachery, Chennai
Call: +918884244700
Web: Royalbrothers.in
Spread out in pan-India that serve bike needs for people, they are pioneers in this field. They also offer wide variations when it comes to the bike. That is they have a wide variant of nine varied types of bikes to offer choices. Also, they too have Honda Activa especially for the customers of Chennai. Apart from bikes, they also offer luxury cars on rental too to enjoy a long and leisure trips. For the bike lovers, do not forget to enjoy your trip by renting their Himalayan, KTM Duke, Royal Enfield Classic and even the Harley Davidson Street which are available on offers. The best part of their services is, they are also willing to guide you plan any bike tours throughout India.
 Date A Bike
Address: New 141, Old 191, Kavitha Garden, East Coast Road,
Uthandi, Chennai
Call: +917358008035
Web: Dateabike.com
The outlet that is started wholly by the bike fanatics of Chennai is this space. They offer a wide range of services to their customers other than offering bike rental services. That is, they aid organize your bike tour with the help of their rental services, offer services for your bikes and also offer certain parts of high-end vehicles. If your priority is for low-cost rentals for high-end bikes, this could be the ideal destination.
Rentrip
Call: +919127008800
This is yet another service that is available pan-India. They also offer the minimum cost of rentals for their services for every collection they have. Their collection also includes right from the Honda Activa to the high-end Royal Enfield Himalayan to choose from. The best part is they offer free helmet every time you rent a bike from them.
 WheelStreet
Call: +918088400500
They are stated as India's largest bike rental portal who offers the best bike renting services. With available in even an app they too have a wide range of collections in their list.
So why to get locked up inside the villas in Chennai when one can enjoy the luxuries of nature once in a while? Go out for a while enjoying the nature and after that, you will be able to feel the difference of dwelling the nature even in your units.