Which of the Tiles remain as the Best Flooring Option?
Selection of ideal decor, wall paint color, accessories, lighting, and flooring occupy most of the time while acquiring a property. Even for ready to occupy flats in Chennai, dressing up a room aesthetically according to the dimension of the room would be a tedious task. Here accessorizing a room also includes the selection of flooring. Though a plethora of options is available to choose from tiles remain as the most preferred flooring of all time. With massive advantages on its side, tiles remain ideal flooring choice due to its availability in different types. From the huge number of options available, here we would like to suggest which tile would suit best for your apartment units.
Vitrified Tiles
This type of tile can be seen in almost every household of Indian homes. One of the major advantages of using vitrified tiles is their appearance. They look just like marbles. Eventually, they fulfill the luxury look that would be given by marble at a reduced cost. Other than this, their superior qualities such as non-porous nature, resistance against stains and great strength make this an ideal selection for an apartment unit. Also, vitrified tiles are available in bigger sizes of about 2×2 feet or even more. This would cut longer installation time and reduces the number of joints.
Some of the types of vitrified tiles available in the market at affordable rates are:
Soluble salt vitrified tiles: Comes in varied patterns.
Full body vitrified tiles: Comes with uniform color throughout, making any scratches invisible.
Double charged vitrified tiles: Comes with two different color tones throughout the tile.
Glazed body vitrified tiles: Comes with additional shine which makes it stain-resistant.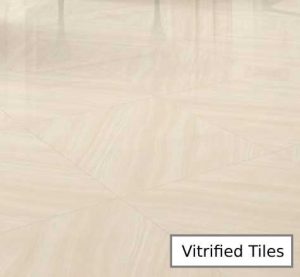 Ceramic Tiles
They are manufactured by mixing natural clay, minerals, and water together with added chemical pigments and color additives. This mixture is molded in required sizes and heated to high temperatures. These tiles are also available in different finishes like matte, gloss, and semi-matte (which is also known as (lapatto).
These are hugely preferred because of the minimal cost and ready availability in the market. Ceramic tiles are cost-effective which is why they are massively used in most of the Indian homes. As a general instruction, opt for matte-finish tiles or cement grouts for a safer navigation. Glazed ceramic tiles have the possibility of becoming slippery in times of humidity.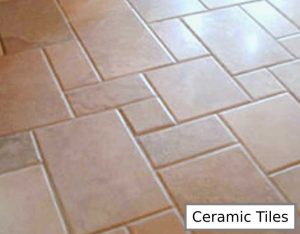 Porcelain Tiles
They are one kind of ceramic tiles composed of finer clay and mineral components which are baked at higher temperatures. Combination of these materials makes it denser, less porous and much stronger than ceramic tiles. That is, the chances of chipping, scratching and susceptible to stains are avoided. Also, these tiles are available in varied design options making it most suitable flooring option for any residential apartments in Chennai.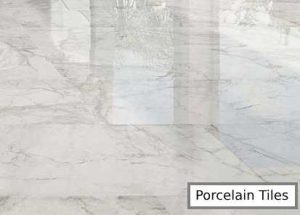 These three types of tiles remain the most preferred flooring options in most of the Indian homes because of the ready availability, less cost, and cost-effective qualities. Invest in these low-cost flooring patterns to save huge on monetary side and also give the best of look for your flats in Chennai.