Location
Situated on the prime and booming Pallavaram- Thoraipakkam radial road, Galleria Residences comes with top- notch amenities and world class facilities like landscaped gardens, luxury clubhouse, well stocked library, wellness centre and other international amenities which makes dwelling a living dream! Besides that, the unit also offers spacious and common wall free living solution for a complete home feeling in no time thereby making it a perfect life-time investment.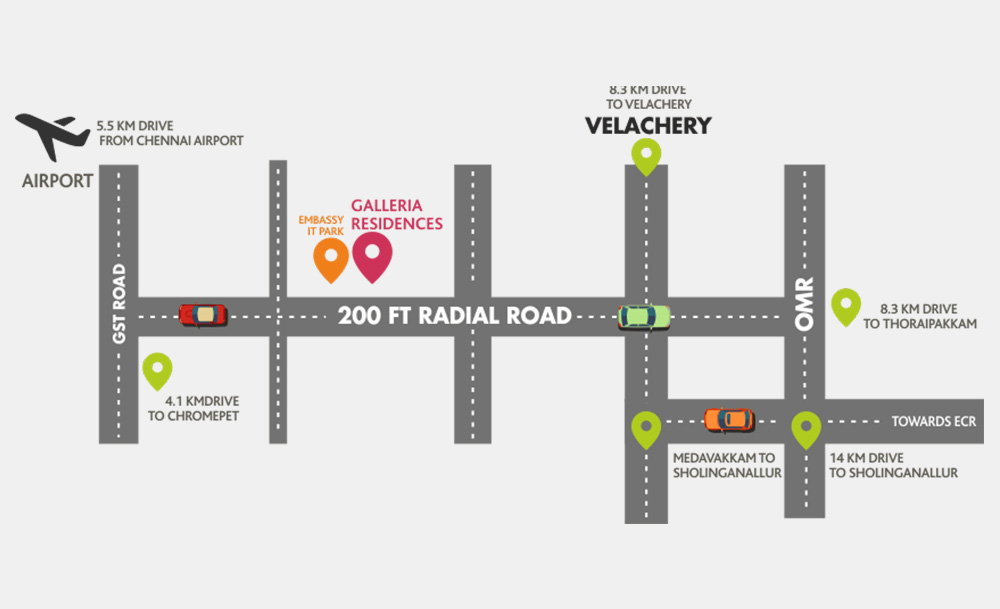 Apart from the above dimensions, it is also noteworthy to mention that this flats in Pallavaram, Chennai provides centralized access to major :
Educational institutions ( Vels University, Madras Institute of Technology etc),
Health care centres ( Dr. Kamakshi Memorial Hospital, Sankara Kidney Hospital etc),
IT/Business hubs ( Embassy, Tech Park, Ascendas, Tata SEZ, TCS etc),
Airport and other leisure/entertainment units in no time.
And to top it all its architectural design style and enhanced capital appreciation value makes it a perfect one- solution for a harmony and investment enriched living! So, experience the same, by moving into Galleria Residence and redefine your living style with class and elegance!